Pelvic Organ Prolapse And Other Conditions: 4 Questions Husbands Ask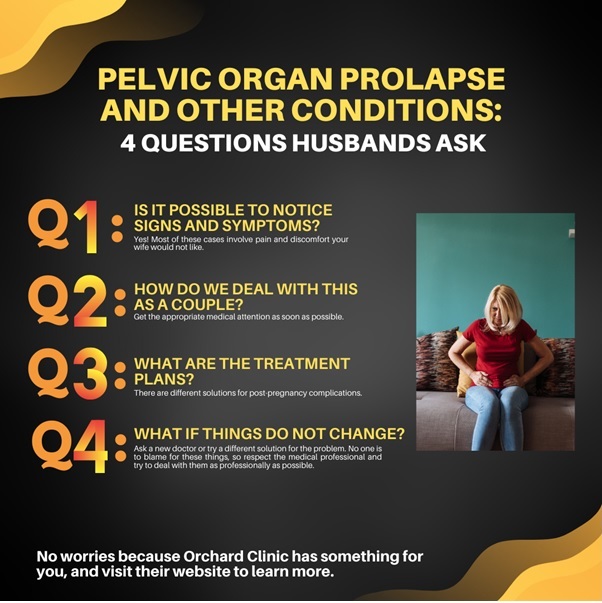 The pregnancy journey is already challenging because of the mother's emotions, the steps to take, and other things you need to do to ensure the smooth delivery of the child. However, things do not end there because your wife might experience an episode of pelvic organ prolapse or any other condition that affects their health and wellness.
No worries because we will answer what most husbands ask about dealing with these illnesses and complications. Let us explore more of them below to help you manage things responsibly with your wife.
QUESTION #1: IS IT POSSIBLE TO NOTICE SIGNS AND SYMPTOMS?
Yes! Most of these cases involve pain and discomfort your wife would not like. It can be a heavy feeling in the area they could not explain or a noticeable bulge that indicates there is something wrong. However, do not assume unless mentioned by a doctor, so consult someone first before concluding that it is indeed a case of urinary incontinence that needs treatment or any other complication.
QUESTION #2: HOW DO WE DEAL WITH THIS AS A COUPLE?
Get the appropriate medical attention as soon as possible. Why? Skipping the appointment with the doctor or disregarding symptoms will only worsen things, and you would not want to experience more pain or cause something severe to your wife. In short, visit a doctor the moment you get the chance or go to the emergency room if things seem severe.
QUESTION #3: WHAT ARE THE TREATMENT PLANS?
There are different solutions for post-pregnancy complications. A case of pelvic organ prolapse will require a particular treatment plan, such as a set of exercises for mild cases and surgeries for severe ones. Overall, it depends on the condition, and the doctor will find the most appropriate one that suits the patient's needs. (Tip: Communicate everything with the doctor to help them come up with a treatment plan, and never keep secrets from them that might negatively impact your health.
QUESTION #4: WHAT IF THINGS DO NOT CHANGE?
Ask a new doctor or try a different solution for the problem. No one is to blame for these things, so respect the medical professional and try to deal with them as professionally as possible. It is also not the woman's fault if their body has reacted differently than planned.
Are you looking for post-partum medical techniques or a menopausal treatment for the ageing mother? No worries because Orchard Clinic has something for you, and visit their website to learn more.