The Benefits of Dry Needling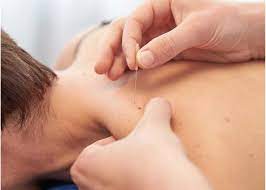 Dry needling, as its name implies, is a therapy using needles administered by qualified professional physical therapists, chiropractors, and other professionals certified in practice.
The therapy involves inserting sterile, non-liquid-containing needles into the trigger points or parts of the body impacted by stress and inflammation. Your muscle fibres may respond naturally with a sudden spastic spasm. It is a normal component of the procedure and is usually painless.
The term is derived from the needles used, as no liquids are injected into the body. During dry needling, a practitioner inserts numerous filiform needles into and beneath the skin. Sharp, short, stainless steel dry needles are filiform.
As the needles are inserted softly into your myofascial trigger points, they stimulate your brain. Remain here with us. Myofascial is only a slang term for persistent muscle pain disease. In simple terms, it is an ache induced by muscular inflammation.
What are the advantages?
Dry needling in Singapore assists in:
Hip discomfort
Neck discomfort
Knee discomfort
Shoulder ache
Lower backache
Myofascial pain
The benefits can also include the following:
Accelerates the natural healing processes of the body
Inserting a sharp, thin needle into the body's trigger points relaxes the muscles, increases blood flow, reduces inflammation, and initiates a healing response.
This therapeutic treatment also enhances nerve connection and stimulates the body's own painkillers, such as endorphins, which work as analgesics. This simply means that they reduce the sense of pain.
Headaches and migraines are cured
Dry needling targets trigger points in muscles and tissues to calm and alleviate tension. This reduces the pressure produced by headaches and avoids headaches.
Enhanced blood flow
Applying dry needling as a therapy helps release tight muscles, alleviate joint discomfort, and increase blood flow and oxygen circulation throughout the body.
Reduces muscular strain
It reduces muscular tension and provides pain relief. Because the needle penetrates one of your trigger points, twitching strongly indicates the therapy is effective.
Beneficial for tendinitis
It helps relieve pain. This implies that a physical therapist, chiropractor, or other skilled practitioner uses tiny needles to alleviate muscular tension, reduce tendinitis and inflammation, and promote healing.
What is the recuperation period?
The majority of the time, mobility is restored immediately, and discomfort decreases within 24 to 48 hours. After receiving acupuncture, you might anticipate feeling a little pain. It's natural.
Typically, a few therapy sessions (once a week for two to three weeks) are required to provide a permanent effect.
How long do the effects last?
We cannot answer definitively or provide an exact figure because the endless positive benefits vary for each individual.
There are excessive variables, including:
Age
Severity of the condition
Treatment frequency
The origin of the ache
Typically, the duration of pain reduction after the first few sessions is only a few days long.