Understanding Baby Bottle Tooth Decay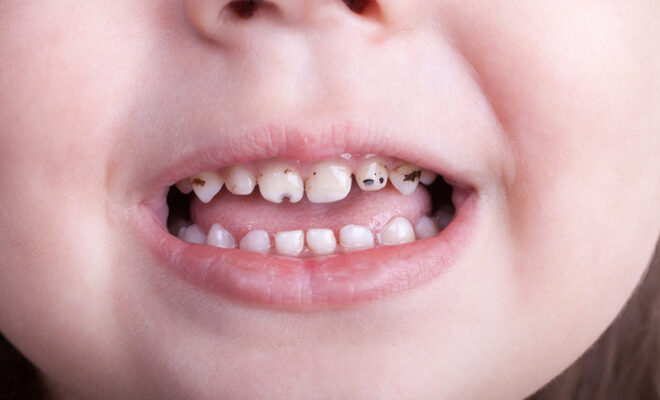 Even though your child's baby teeth will eventually fall out and be replaced by adult teeth, it is still important to protect them and practice dental hygiene. Having unhealthy baby teeth can lead to dental problems in your child's adult years. Oral hygiene neglect can lead to decay and cavities and cause various oral problems down the line. 
Tooth decay in children and infants is known as Baby Bottle Tooth Decay or Early Childhood Caries. Even though your child's teeth are not permanent right now, they still need them to be strong in order to chew their food properly. Teaching your kids the importance of oral health at an early age is important. Speak to a Cumming, GA pediatric orthodontist today. 
What is meant by Baby Bottle Tooth Decay?
Baby Bottle Tooth Decay is when babies, infants, and toddlers experience tooth decay, especially in their front teeth. There are various ways your child could be spoiling their teeth and inviting tooth decay. Knowing what causes this condition is the best way to prevent it. 
If you let your child drink sugary drinks often, you should stop immediately. Sugar should be avoided as much as possible as it is one of the worst enemies of good dental health. 
Another reason for child tooth decay may be putting your baby on the bed with a bottle in their mouth. This causes their teeth to be coated with milk or any other liquid for a long time since it lingers in their mouth. Keeping any drink in the mouth for a long time can lead to tooth decay. 
Tooth decay may be passed from one person to the other. For example, if the mother licks the feeding spoon to check the temperature, the bacteria from her mouth could transfer onto the spoon and then to the baby's mouth. 
Tips to prevent baby bottle tooth decay 
Fortunately, there are several precautionary steps a mother can take to ensure their baby's teeth remain healthy. 
Try not to lick feeding spoons or pacifiers. 

Have them brush their teeth with fluoride toothpaste between the ages of 3 and 6. 

Supervise your child while they brush.

Do not let your baby sleep with a bottle in their mouth. They should finish their bottles before finally going to bed.

Avoid giving your baby sweet, sugary drinks like juices, soft drinks, or sugar water, and stick to milk. 

Clean your child's pacifiers to avoid a bacterial transfer.