Healthy Aging and 5 Ways to Do It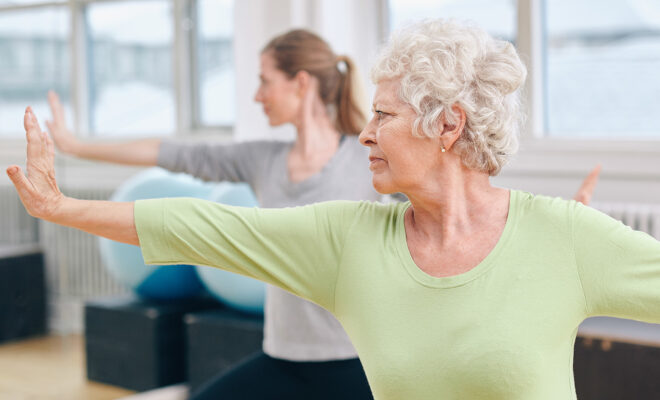 Growing older can come with many exciting changes, including retirement, more traveling, trying new hobbies, and more. At the same time, you may also notice some changes in your body as you age. For some people, this may include high blood pressure, slower reflexes, and weight gain.
Fortunately, there are many ways to help combat some of these issues. Here is more information on healthy aging and five ways to do it.
Balanced Diet
Eating a balanced diet is a great way to age more healthily. Doing so can help prevent certain diseases, support brain health, and boost your mood. Additionally, among other benefits, consuming the right amount of nutrients can keep your bones and muscles strong. People 65 and older are at a higher risk of falling, so keeping your bones and muscles in good health is especially important as you age.
A balanced diet can include a variety of foods. Just be sure to include different fruits, vegetables, whole grains, lean meat, and low-fat dairy items. Depending on where you shop, buying whole foods can be cheaper than eating out a lot. So, eating healthy and cooking your own meals can help you save during retirement. Staying hydrated is also important for your body to continue functioning properly, so include lots of liquids in your diet.
Active Lifestyle
Another way to assist in healthy aging is staying physically active. It can be easier to move less and less as you grow older. However, moving as much as possible can help keep your body strong and healthy. This is especially true when managing different diseases and preventing dangerous falls.
Fortunately, you don't need to do anything extreme. Simply taking a walk each day or engaging in some strength exercise can go a long way. Do whatever your body can safely allow.
Sleep
Ensuring you get a good night's rest is vital to your overall health. Getting enough sleep provides various benefits, including better moods, a stronger immune system, weight management, and more. The Centers for Disease Control and Prevention reports adults ages 61 to 64 need about seven to nine hours of sleep each night. For those 65 and older, seven to eight hours of sleep is recommended every day.
There are many ways to help yourself sleep well. For example, you can consider putting your phone away about an hour before bed. Otherwise, the blue light from your device may keep you awake longer. Another way to help your sleep quality is to wake up and go to bed at the same time each day. If your sleeping pattern is too irregular, your body may have difficulty falling asleep.
Mental Health
Your mental health is just as important as your physical. This can include your emotional, psychological, and social well-being. The transition from working full-time to retirement life can have quite an impact on some people's mental health. For example, you may experience more isolation, symptoms of depression and anxiety, loss of identity, boredom, and more.
Although there is no guarantee you'll have these experiences, it is good to take notice of your mental health when you retire. You may even consider ahead of time how you can help yourself adjust to your new lifestyle. For instance, you can ensure you continue spending time with loved ones, set new goals for yourself, stay physically and mentally active, and more.
Preventive Care
Another factor some people forget about when aging is the importance of preventive medical care. Preventive care can help prevent or identify health issues before they potentially become more significant issues. So, you may consider having regular check-ups and screenings and keeping up with your vaccinations if possible.
This can be especially important if you plan to sign up for Medicare around age 65. Although Medicare does provide coverage for some preventative services, the coverage may not be as comprehensive or frequent as you may be used to with employer insurance.
Additionally, Medicare Part B only pays for 80% of approved services, leaving you with 20%. Fortunately, you can sign up for Medicare Supplement plans to assist with these costs. It can be hard to navigate health insurance as you age, especially when it comes to Medicare. So, you may want to sign up using Medicare Supplement brokers to guide you.
Final Thoughts
Caring for your physical and mental well-being can help with healthy aging. It can be a daunting task to lead a healthy lifestyle, so if you're just starting out, it's okay to take things one step at a time. Maybe you can start by drinking a certain amount of water each day or going for a walk in the mornings. The choice is yours, so be sure to make choices that are sustainable and healthy for you!