Is there any pain following ingrown toenail surgery?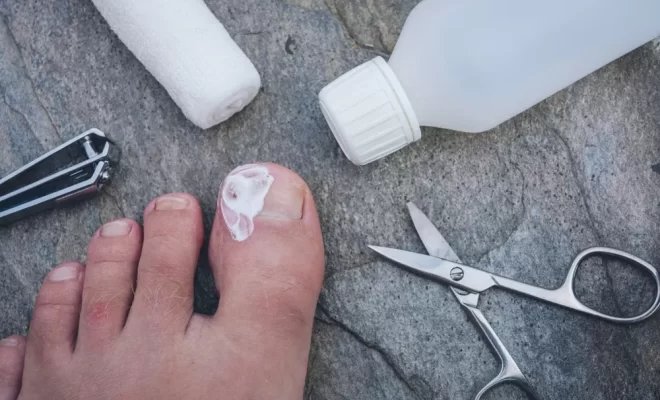 Ingrown toenails can be excruciatingly painful in your foot, and if left untreated, they can represent a significant health concern. In addition to pain around the borders of your toenail, common symptoms of ingrown toenails include skin thickness or enlargement, fluid buildup, oedema, and pressure around the nail.
Ingrown Toenail Treatment
Though less severe occurrences of ingrown toenails can be treated at home, it is suggested that a podiatrist or doctor examine them. A minimally invasive procedure is the best option to remove a chronic or recurring ingrown toenail, especially if you are enduring severe discomfort or infection.
The offending section of the toenail from the base, also known as the nail matrix, is removed during ingrown toenail surgery. This operation, known as a Partial Nail Avulsion, can completely heal many chronic or severe ingrown toenails while also preventing recurrence. In some circumstances, skin overgrowth, also known as hyper granulation tissue, may need to be excised as part of the toenail surgery. This must be excruciating, right? Infected ones are frequently uncomfortable, and the thought of someone prodding them makes one cringe.
The good news is that you will not feel discomfort throughout the surgery because you will be sedated. So the only pain you are likely to feel is during the anaesthetic injection. We have also corrected this by using enhanced injection techniques and Comfort-in needle-free technology to numb the area before injection. So all you will feel is a tiny pain to nothing at all and the sensation of the toe being filled with fluid.
Does Ingrown Toenail Surgery Cause Pain?
Patients are not uncomfortable during the process because the surgery is performed under a local anaesthetic. However, after the anaesthesia wears off, patients frequently report discomfort around the surgically repaired toe.
In some situations, this is followed by a minor throb that lasts for a few days. The pain can be easily relieved by using over-the-counter pain relievers. However, when direct pressure is applied to the toe area, you will likely feel some tenderness.
Those who have really painful ingrown toenails will usually feel instant relief after surgery.
However, some people may have pain following the surgery. This is frequently an indication of complications, such as an infection, especially in people who do not follow the podiatrist's home care guidelines.
The following are examples of common mistakes that people make that can raise their risk of infection:
Taking off the post-operative dressing earlier than suggested.
allowing the area to dry naturally or having it saturated
In a few cases, deeper areas of the nail bed may be injured during surgery, resulting in poor drainage, healing, and pain.
You may feel discomfort in the nail if it becomes ingrown on rare occasions. As a result, if you have substantial pain following surgery, you should have your toe evaluated.
Verdict
Ingrown toenail surgery is typically a painless, effective, and safe treatment. Therefore, we use a minimally invasive surgery known as Partial Nail Avulsion with Phenol Matrixectomy, which has a 98.5% success rate.